Food Stamps Can Help
Do you need help buying food?
Do you need help getting healthy food?
Do you know what food stamps are?
Do you want to know if you qualify for food stamps?
If you answered "yes" to any of these questions, then you should know that food stamps can help. Here are some common questions and answers about food stamps.
What are food stamps?
The Food Stamp Program provides benefits to those who need it most – even those who work full time, own their home, and own cars.
Food stamps can help you buy the food you need for good health. If you have difficulty paying all the bills and buying food, food stamps can really help.
Food stamps are provided on an electronic card (called an EBT card) that can be used like a debit card to buy food.
Food stamps can be used at supermarkets, grocery stores, farmers' markets, and flea markets where EBT cards are accepted.
Why is it important to eat healthy foods?
The food you eat each day affects your health for a lifetime. It helps you determine how you feel today, tomorrow, and in the future.
Eating plenty of fruits, vegetables, and whole grains every day can help lower your risk of serious health problems like obesity, type 2 diabetes, heart disease, stroke, and certain types of cancer.
I need help buying food. Where can I get help?
There are food stamp offices in every county of California. They can determine whether you qualify for benefits.
Call toll-free 1-877-847-3663.
Learn where to apply for food stamps in your county at http://myfoodstamps.org/apply.html.
How do I know if I am eligible to receive food stamps?
Find out if you may be eligible to receive food stamps by visiting www.myfoodstamps.org/eligible.html.
This free site has a few short questions to help you figure out if you might qualify for food stamps. It can also help you learn how to apply for food stamps in your county.
Or, call toll-free 1-877-847-3663.
Where can I find a food stamp office in my area?
Where can I get information about other nutrition assistance programs, like free or reduced-price school meals?
Call toll-free 1-888-328-3483.
Visit the USDA Food Assistance Programs Web site for many programs that can help your kids eat nutritious meals at school.
Visit your Regional Network's Web site. They may offer helpful workshops and events in your area – like free health clinics, health fairs, and farmers' markets. Using the California map, click on your region to find the Web address.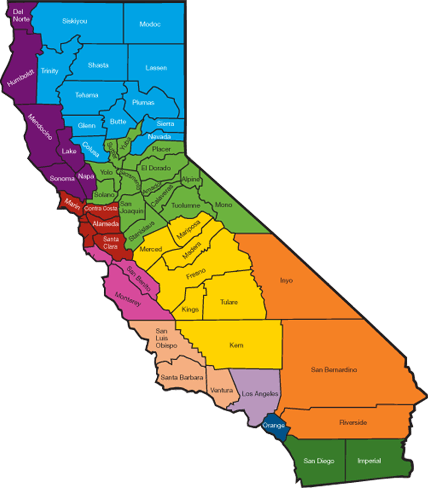 The Network has over 150 agencies serving California in 11 different regions. Mouse over your region on the California map to find an agency near you.
http://www.barnn.org
Counties: Alameda, Contra Costa, Marin, San Francisco, San Mateo, and Santa Clara
Santa Clara County Public Health Department - Nutrition and Wellness
1400 Parkmore, Ste. 120 B
San Jose, CA 95126
(408) 793-2710
Contact: Joe Prickitt
[email protected]
http://championsforchange.lacounty.gov
Counties: Los Angeles
Los Angeles County Department of Health Services - Nutrition Program
3530 Wilshire Blvd, Ste. 800
Los Angeles, CA 90010
(213) 351-7875
Contact: Suzanne Bogert
[email protected]
http://www.co.monterey.ca.us/HEALTH/CommunityHealth/Nutrition/RegionalNetwork.htm
Counties: Monterey, San Benito, and Santa Cruz
Monterey County Dept. of Health Community Health Division
632 E. Alisal Street
Salinas, CA 93905
(831) 796-2894
Contact: Christine Moss
[email protected]
http://www.northcoastnutrition.org/
Counties: Del Norte, Humboldt, Lake, Mendocino, Napa, and Sonoma
California Health Collaborative
1101 College Ave., Suite 215
Santa Rosa, CA 95404
(707) 543-5810 ext. 203
Contact: Jennifer McClendon
[email protected]
http://www.cvhnclinics.org/
Counties: Fresno, Kern, Kings, Madera, Mariposa, Merced, and Tulare
Central Valley Health Network
1987 N. Gateway, Suite 101
Fresno, CA 93727
(559) 255-4300 ext. 17
Contact: Nichole Mosqueda-Curtin
[email protected]
http://www.ochealthinfo.com/public/nutrition/nupac/
Counties: Orange
Orange County Health Care Agency
1725 W. 17th Street
Santa Ana, CA 92706
(714) 834-8673
Contact: Anna Luciano-Acenas
[email protected]
http://www.sbcounty.gov/eatwell
Counties: Inyo, Riverside, and San Bernardino
San Bernardino County Department of Public Health
351 North Mt. View Ave., 1st Fl.
San Bernardino, CA 92415
(909) 387-6320
Contact: Jeanne Silberstein
[email protected]
http://www.sdnnonline.org/
Counties: Imperial and San Diego
UCSD, Community Pediatrics
4305 University Ave., Suite 590
San Diego, CA 92105
(619) 955-1041
Contact: Blanca Melendrez
[email protected]
http://www.goldcoastnetwork.org/
Counties: San Luis Obispo, Santa Barbara, and Ventura
Ventura County Public Health Department
2323 Knoll Drive, Suite 322
Ventura, CA 93003
(805) 677-5254
http://www.scnutrition.org
Counties: Butte, Colusa, Glenn, Lassen, Modoc, Nevada, Plumas, Shasta, Sierra, Siskiyou, Tehama, Trinity
California Health Collaborative
25 Jan Court, Suite 130
Chico, CA 95928
(530) 345-2483 ext. 215
Contact: Patricia Mannel
[email protected]
http://www.healthedcouncil.org/network
Counties: Alpine, Amador, Calaveras, El Dorado, Mono, Placer, Sacramento, San Joaquin, Solano, Stanislaus, Sutter, Tuolumne, Yolo, and Yuba
Health Education Council
3950 Industrial Blvd., Ste. 600
West Sacramento, CA 95691
(916) 556-3344
Contact: Ramona Mosley
[email protected]